Raffety strives to make your purchase as transparent and straightforward as possible. Raffety has an enviable reputation within the British art & antiques world and we hold accreditations with both the British Antiques Dealers' Association (BADA) and CINOA.

Nigel Raffety is also a Freeman of the Worshipful Company of Clockmakers, a Freeman of the Worshipful Company of Arts Scholars and a long-term member of the Antiquarian Horological Society.

Nigel would be delighted and indeed prefer to answer personally any questions you may have with regards to condition, pricing and best shipping/delivery options.

Beside each stock item, click on either ENQUIRE to e-mail your enquiry or CALL for Nigel to personally call you at a convenient time.
Your purchase has been cared for by generations of loving owners. With decades of experience in handling, protection, packing, crate design and manufacture, we give our patience, respect and professional skills to each and every item to make sure they arrive at their destination, fully protected and ready to be enjoyed for many generations to come. Below is an example of the preparations and protections given to a Long Case clock in readiness to export to the customer. Our preferred shippers PACKABLE Ltd will ensure your treasured clock is well cared for and protected on its travels.
WRAPPING
All individual large and small items are professionally wrapped and protected with a combination of acid free tissue, soft bubble wrap, fine lined white bubble blanket, differing densities of foam forms and sheeting. We provide 360-degree protection whilst in transit. Smaller items are then strategically packed within the crate, offering full protection to themselves and all other items.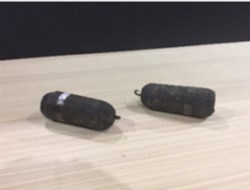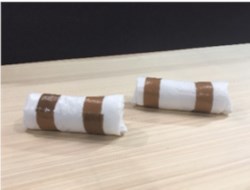 HOOD
Any parts of the Hood, such as removable finials, Keys etc. are individually wrapped and labelled.

Low adhesive masking tape is applied to the glass of the hood to offer further protection whilst in transit. The hood is then replaced to the body of the clock for final wrapping.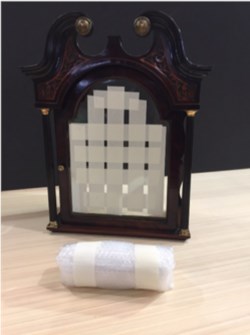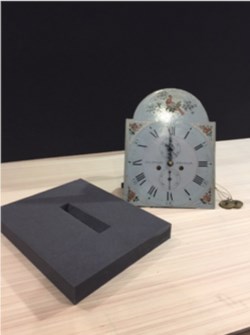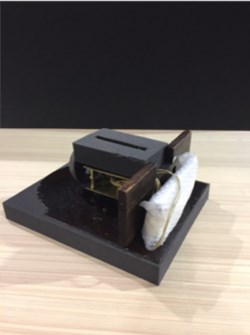 MOVEMENT
Soft foam forms are cut to protect the front face and rear movements. Slots and spaces are cut within the foam to ensure that no pressure is placed upon any delicate parts. Pulleys are then wrapped and placed beneath the movement shelf. The movement is then fully wrapped in acid free tissue and soft bubble wrap. Masking tape is used to seal the wrapping in place to prevent force being required to unwrap.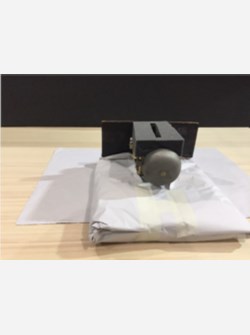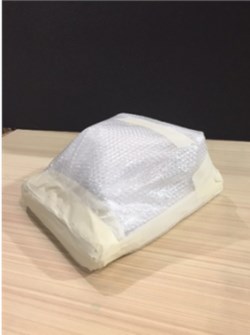 CLOCK CASE
With the protected hood replaced, the main case of the clock is ready to be wrapped in fine lined white bubble blanket. The fine membrane lining of the tough vinyl laminated Bubble blanket fully protects both the surface and the complete case whilst in transit.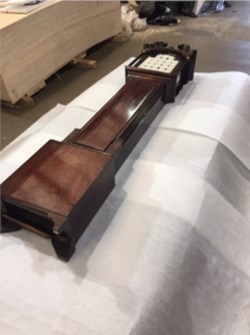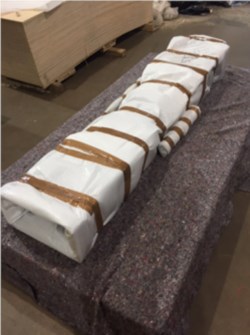 With all parts of the long case clock wrapped it is ready to pack into the crate.
THE CRATE
Each crate is uniquely designed and made for each purchase. Shown is a design of long case clock with one fixed partition wall creating two individual compartments. In this example each compartment has been fully lined with polystyrene sheeting. A base layer of poly loose fill is added before placing the wrapped main body and parts into the large compartment. The wrapped clock movement is then placed within the smaller compartment. More loose fill is added to fill all spaces followed by a top layer of polystyrene sheeting. The crate is now sealed ready to be shipped to the customer. All parts of a clock have been together for many years. We design each crate so that all parts can be safely packed and remain together whilst being shipped. The body of the crate is hardwood ply framed with ISPM15 (heat treated timber). Each layer of wrapping, lining and protection, protects against climatic moisture changes and sudden impact shock whilst in transit. Packing everything safely and securely into a single low profile crate allows quality packing and shipping costs to be kept to a minimum.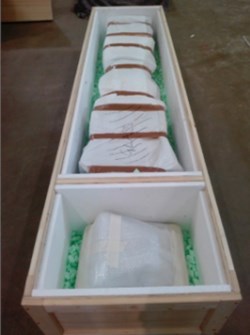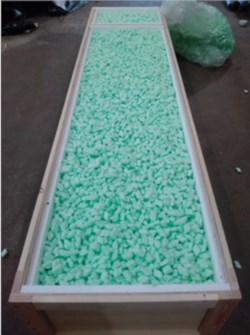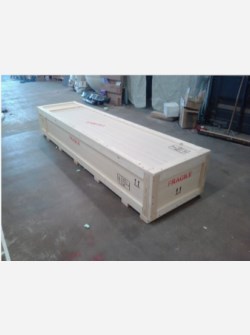 We accept payment by bank transfer or personal cheque.

Kindly make direct contact with us by telephone or e-mail to obtain the necessary details.

Alternatively, we accept secure payment from all major credit cards.

Upon receipt of your payment, we will send promptly to you a receipted and fully detailed descriptive invoice and photograph of the item purchased.
We offer free shipping and white glove delivery in mainland UK. We can also arrange affordable shipping worldwide including to North America, Europe, Australia and New Zealand by our experienced, long term and trusted carrier PACKABLE LTD - please contact us if you would like a shipping quote.

Selected stock items may require a licence for export from the United Kingdom. Raffety will apply for any licence required on your behalf and inform you of its progress through the official channels and of any delay this may cause to the actual shipment of your goods.

For further details on the expert packing and shipping service we provide, in collaboration with our preferred shippers PACKABLE LTD, please CLICK HERE.

If you are involved with lengthy restoration of your property or moving home, Raffety would also be pleased to offer additionally secure storage of your purchase for a period of six months, free of charge.
If you would like to return an item, you have 14 days from date of receipt to inform us.

You are entitled to a full refund for the item, but are responsible for paying for any return shipping.

Returns are only accepted if the item is returned in its original condition as sold by us.

A full refund of the purchase price (less return shipping) will be paid upon receipt of the item.
All our clocks are guaranteed to be in full working order, by the maker stated, of the date specified, and come with a 1 year guarantee.

We can provide you with a full description and valuation for insurance, and a BADA certificate can be arranged if required.
If you would like to view our current stock, then you are most welcome to arrange an appointment to visit our showroom situated in Mid Devon, near Crediton.

Alternatively, should you have an interest to purchase a specific item shown on our website, this can be viewed also by appointment at 48, Queen Street in central Exeter, the home of the Exeter Business Hub, details of which are shown on the Contact Us section of our website.

Please contact us by telephoning 020 7937 2220 or by e-mail to arrange either of these options.